Hidden details and explanation of the last scene of Death Note anime ending and why it is a masterpiece.
Death Note is timeless classic of all time and one of the most famous anime out there. Well there is no perfect anime and every anime is overrated for someone. Death Note on surface is a Psychological Thriller anime but, deep down it is actually fight between two ideologies (loosely speaking), as a chess game. It is a type of chess game the player is writer who is playing from both sides and doing all of he can do to win from both sides as L and Kira.
1. Beauty behind last scene
Desperate run of Light Yagami:
The writer could have easily ended the scene by killing Light Yagami normally. Instead of doing that that last show symbolize whole anime in a way. The last run of Kira can seen as desperate run in pursuit of something that he could never achieve i.e. Godhood.
The whole life of Light after having Death Note can only be seen as a run from the consequences of the deeds and pursuit of his pipe dream of being a God.
2. The Stairs of Heaven and Hell
When light died, it was clearly visible that he was lying in the middle of stairs that can be said the stairs of heaven and hell. Ryuk also said to Light that when someone uses Death Note then they can't go to heaven or hell. The stairs being in between heaven and hell.
2. Who is truly a God(Shinigami)…
In the last scene of Death note anime it can be seen that Ryuk was sitting on the building that was that was tallest in town that can be regarded as the epitome of authority where a God: the supreme resides. The very same building that Light Yagami failed to climb. whenever a man gets small bit of power he thinks that he is above all beings. The writer here wants to convey thattop only belongs to those Who are supreme, Who are truly a God.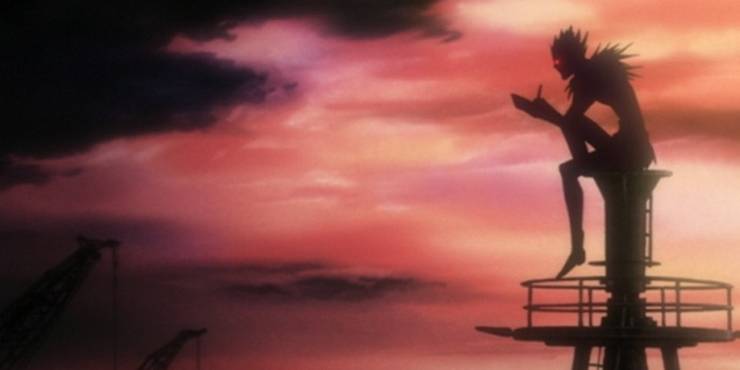 Read: Why Rimuru Tempest can be one of the best God?
3. Irony of Name
"Karma is a Bitch". Kira who killed others by writing their name on the Death Note himself got killed by this method.
Also, Light means brightness that draws out the darkness but light himself engulfed by the darkness and became kira. Hence,
"Power corrupts but absolute power corrupts absolutely"
Conclusion
"IF YOU GAZE TOO LONGER AT ABYSS, THE ABYSS WILL ALSO GAZE BACK AT YOU."
–Nietzsche
The quote is very famous one and many stories have used this quote as the main theme. Even in Solo Leveling it was mentioned.
The reference here is that, Light who was actually a bright student became like this when he gazed only at the negative aspects of the world and as a result he himself became evil. As we know that when he lost his memories He himself was against Kira. That is how we also can change with small incidents. So, keep positivity around yourself.
Also Read: 10 Emotionless Anime Characters of All times
Synopsis of story:
"Light is an extremely brilliant but bored high-school student. Until the strange day where he accidentally encounters the Death Note; a mysterious notebook with the power to kill anyone whose name is written inside it.

With the Death Note in hand, he goes on a personal crusade and moves to kill all evil in the world and become God. He does this all in his new name, Kira, and declares himself the law and justice of the world.

At first things go as he planned, and he moves toward making a 'better' world. However, things don't go as he had anticipated as the relentless 'L' works to track him down, and arrest him." Source: IMDB